Blog Category: Bluray feature
A new short clip from Daniel Radcliffe and J.K. Rowling's chat, which will be featured on the Harry Potter and the Deathly Hallows: Part 2 Blu-ray set, was released by Cine Premiere, where the author of the Harry Potter books revealed that of the trio, she truly considered killing Ron Weasley off mid-series. That can be viewed below.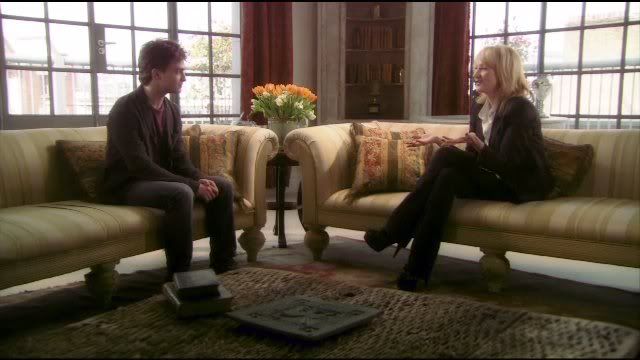 Daniel Radcliffe: Here's another thing, 'cause there's … was there ever a chance that one of the main – 'cause I was convinced that one of the main three had to buy it eventually … one of them was gonna.

JK Rowling: Well, funnily enough, I planned from the start that none of them would die. Then midway through, which I think is a reflection of the fact that I wasn't in a very happy place, I started thinking I might push one of them off out of sheer spite. "Now you definitely can't have him anymore."

Dan Radcliffe: Midway through the book or midway through the series?

Jo: Midway through the series. But I think in my absolute heart of hearts, although I did seriously consider killing Ron …

Dan: Really?

Jo: Anyway, I can tell you it's a real relief to be able to talk about it all. It's fantastic.

Dan: It must lovely.

Jo: It's lovely.
Views:
654
Posting:
9-Nov-2011 12:04:26 WIB
Comments:
0
comments
Category:
Harry Potter
,
Jkr
,
Daniel Radcliffe
,
Bluray Feature